Amsterdam welcomed me back to my new home county by name….loved the sign complete with windmill, wooden shoes, and tulips.   And the long awaited Eurotrip begins.
Hotel:  Radisson Blu Amsterdam
The InterCity direct train between Schiphol Airport and Amsterdam Centraal Station is an economic (2nd class €3.90/ 1st class €6.60 one way) easy way to get to the heart of Amsterdam reasonably quick (approx 20min trip).  However, after almost 24 hours of traveling I opted for the even easier route:  straight out the door into a waiting car.  Somedays, I am more than willing to pay for convenience and today I think it could have been double or triple the price and door-to-door service complete with baggage handling would have been worth every penny or more appropriate Eurocent (approx. €50)
The car took me straight to the front door of the Radisson Blu Amsterdam, Rusland 17.  I have stayed at this hotel during my three previous trips to Amsterdam and during those trips loved everything about it.  The service has been incredible, the staff went above and beyond no matter what the request, I have no words for the great hospitality here….So, driver unloaded the bags to the curb…wait something is missing here oh yes there are no curbside bellman.  No problem got this grab the bags go inside to check in they must be really busy after all it is Saturday afternoon during the summer holiday break period.  Once inside I notice yep NOT so busy OK this seems a bit odd…..arrive at the check in counter only to be greeted a bit abruptly by the desk attendant (now known as rude weekend guy).  Waaaaiiittt I cannot be in the Radisson Blu where everyone is so friendly and helpful and this hotel has been flawless in the past oh bloody hell I must have entered the wrong hotel so I ask "I am at the Radisson Blu right"?  Finally, checked in and rude weekend guy was so kind to point me and my bags to the elevator that would magically transport me to the room without even knowing where it was.  The only explanation I have here is the management must have changed !where is Sam?  I want her back.
Just a bit of perspective here because I love this hotel so much and it is birthday weekend I have booked the New Amsterdam Suite (1 of the 2 suites in the hotel) and while I don't expect them to roll out the red carpet for me I do expect at least the same level of service and hospitality I have received in the past.   The room is beautiful with separate sitting and bedroom areas, the bathroom has a spa tub, separate shower and sauna, ample closet space and huge floor to ceiling windows overlooking the canal.  The amenities include:  unlimited free wifi for all devices, in room Nespresso coffee machine, free mini bar access, access to health fitness center, and a perfect location in the heart of Amsterdam.  There were a few maintenance issues in the room which were quickly taken care by the manager on Monday morning and whom invited us for a really spectacular dinner in the hotel restaurant to compensate for those.
Another perk for me is the availability to have breakfast delivered in your room.  I enjoy being able to have coffee and European breakfast foods as I wake up without needing to face actual people.  However, even in the expensive rooms be prepared for them to tell you from now on put the tray outside and if there is no breakfast card in the room you must obtain one and fill it out because they did not want to take the order by phone.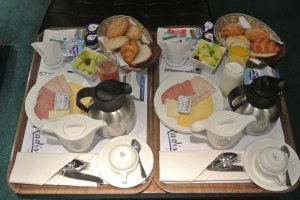 To be fair the hotel is very nice, located in a great part of town which is close to everything you want to do in the city center but far enough away that it remains quiet and peaceful at night to sleep, the amenities are great and the rooms (I have now stayed in all room types they have:  standard room, business class room and both suites) are comfortable and furnished nicely.  The issue this time is only the complete change in the level of service even since my last stay a mere 2 months prior.  It did remind me that supersized hotel chains are not my thing.  Though I completely understand it is perfectly acceptable and preferable for many others.
Out and about in Amsterdam.  Since this is my 4th visit to this wonderful city I love the fact that it begins my Eurotrip.  It gives me an opportunity to recover from the jet lag, relax and not feel like I need to spend every waking minute seeing something.  I really love just "aimlessly wandering" around the city…you know start in one direction without a plan just to see where you can end up and what you find along the way.  I am also aware because of my directionally challenged issues even with a plan it usually turns into "aimless wandering".  Over the several days I was in Amsterdam I happened upon beautiful, interesting and what the heck were they thinking places.
Museums:   Anyone who has been around me for more than 5 minutes knows I have the attention span of an ant and yet this trip I decide I am going to visit museums.  The first piece of advice I have is to purchase a Museum Card one price  (€49.95 for adults and €25.00 up to 18 years of age plus €4.95 administration fee) and you can access for 1 year most of the museums in Amsterdam for free and at some attractions you can gain priority access without waiting in a line.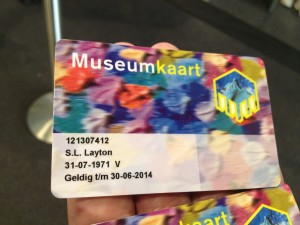 OK there were two things I neglected to take into account:  1) Summer holiday break 2) arriving mid day, both points not conducive for me visiting museums.  By the time we arrived there was a minimum of a 2 hour wait at the places I wanted to visit….hang on I need to stand in line for two hours before even getting into the museum…haha NO.  So the 2nd and most important piece of advice for visiting museums: arrive 30 minutes before museums open or 1 hour before they close but even better visit when everyone else is at work and in school (off peak travel time)
There are two other tourist passes available in Amsterdam, 
Amsterdam Holland Pass
, valid for 1 year which includes free entrance to almost all important museums (including Rijksmuseum) and attractions in Amsterdam the Netherlands and "
I amsterdam Card
" . This cards is valid for short term visits to Amsterdam of 1, 2 or 3 days. It includes free public transport and entrance to many museums (but not Rijksmuseum) and other tourist attractions in Amsterdam.
Van Gogh Museum: Check it out I actually made it into one museum solely because of the priority line no waiting required.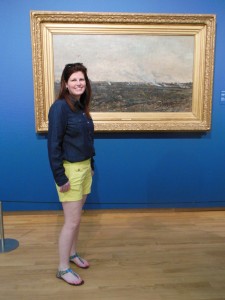 The museum is a bit institutional looking for me.  OK look this guy was literally crazy (perhaps a bit drug induced) with one of the most creative artistic minds during his lifetime being able to take different artistic styles replicate them flawlessly and combine those styles into something that became his signature and the best you can come up with is a square concrete building to house that insanity.
I must admit that while I don't really understand or get art  I do love the story behind Van Gogh which is why I spent 30 whole minutes there.
Next order of business but for me the most important….Shopping.  Kalverstraat the place for that to happen very nice stores for apparel, shoes, bath products everything you can think of.  Also, I love to visit de Bijenkorf (literally translated from Dutch to English as the beehive) which is a large shopping store very comparable to Macy's, Dillards etc in the United States.  On the top floor is a self serve restaurant with nice views of the city, great variety of food, excellent hot drinks, heavenly pastries and its own whipped cream machine.  Yes again this one detail of the whipped cream machine makes me feel more joy than it probably should.
Last stop Albert Heijn, aka best grocery store in the world, to stock up on picnic supplies for the 15 hour night train excursion from Amsterdam to Prague.  Living in Buenos Aires with its import restrictions and super crazy out of this world over the top inflation, has led me to appreciate good and sometimes even mediocre grocery stores that at least has a small variety of products; however this store is the mother of all great supermarkets.
To be continued in Prague……….