Happy Birthday to me…began with a three-hour late arrival into Prague from Amsterdam after an already much too long train ride.  Will write a separate post for all the travel by train during Summer 2013 Eurotrip. 
Two things to be aware of at Praha Hlavni Nadraz (the main train station in Prague)  1) do not exchange money with the men trying to buy your Euros or Dollars near the exchange house unless you have experience with Czech currency because you may just end up with counterfeit bills.  The exchange houses seem offer a decent rate until you exchange and learn there is an exchange fee usually 20%.  The best way is to withdraw cash directly from the ATM and let your bank convert for you at the official exchange rate even if your bank charges an International ATM fee.  2) Negotiate the taxi price before getting into the taxi.  They will quote you double so be prepared to walk away.  Also, you can usually arrange for transfer service directly with your hotel.  To be honest if I was not traveling with someone who knew these rules I would have just handed dollars to the random exchange guy and gotten in the taxi for whatever price quoted cause hey that is easier and less hassle for me and I am a bit naïve in trusting most everyone.
Negotiations complete now in the taxi to the hotel (400 Czech Koruna, approx. 21USD currently the exchange rate is 1USD to 19.24CZK).  Alchymist Palace, such an incredibly appropriate name for a hotel for me to stay in on my birthday.  I actually selected the hotel for its name (so love it, so fitting for my occupation) but also for the stellar reviews it received on trip advisor.  Arrived to the front door of the hotel and there is a bellman who before I could exit the car is unloading the bags and taking them inside to the check in area.  YES!!, my faith in hotel hospitality is restored…. already this experience is far surpassing the last hotel experience.  And to say it only improved from there is the understatement of the year.  I could seriously get used to this level of hospitality.
The room was not quite ready so we were invited to have a welcome drink in the summer garden restaurant.  Though welcome drink is perfect by this time "my stomach is eating a hole in my backbone" and I am in dire need of food.  The receptionist assured us that the restaurant was a perfect place for lunch as well as drinks and after looking at the menu she was indeed correct.  Sweet let the birthday celebration officially begin.
First things first a glass of red wine which is a definite must to begin birthday celebration, next course warm goat cheese with walnuts and balsamic reduction served with a homemade bread selection, main course for me Alchymist burger on focaccia bread with grilled veggies (somedays a girl just needs an exceptional burger) for incredibly tall Dutch Man sesame seared red Tuna with Czech potatoes (yes I will have another glass of wine) and for the favorite course…yes you know I am now talking about dessert I had a flourless chocolate cake topped with red berries and for my partner in excess calorie crime crème brulee. This incredible birthday lunch ended with two fabulous cappuccinos and artisanal chocolates. Everything served was beautifully plated (quintessential food porn) and tasted even better than it looked.  I could seriously go for one of those burgers right now…such a shame I am a 16-hour plane ride away from the secret garden of heavenly goodness.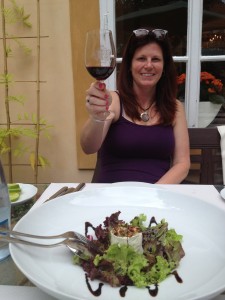 Lunch complete and the room now ready.  We have been given the Johannes Kepler Suite; which consist of a bedroom with sitting area, separate small kitchenette and separate bath.  The spacious room is elegantly beautiful and appointed with true to period furnishings.  I so love all the charm and elegance this room exudes I cannot imagine a better place to celebrate my birthday.
Additionally, incredibly tall Dutch man had previously arranged for roses, champagne and birthday cake to be delivered to the suite.  A girl could get used to feeling like a queen and being pampered.
The birthday cake is a local traditional cake "The Sacher Torte".  It is a chocolate layer cake filled with apricots, topped with a rich chocolate ganache and is a specialty in this area of the world.  Apparently the mystery lies in which country actually invented the cake and who actually has the best version.  Well I can say this version was pretty tasty….pastry heaven delivered straight to me no need to get lost searching for it.
I am officially in a food coma, the air-conditioned room is a nice retreat from the sweltering temperatures which are tormenting most of Europe this summer, not to mention I am a bit tired from the 19 hour overnight train trip…..I look at the bed and hear it calling my name…Yes a nap is a certainty and will happen NOW.  A few hours pass I am now awake, refreshed and ready to explore town a bit; not to mention the temperature has cooled off enough that the soles of my shoes will not fuse to the sidewalk.
The receptionist at the front desk gives us a map to old town and a few suggestions of what to see.  Got the map (with a highlighted route)… off we go and yes her directions are flawless even for me.  Crossing the Charles Bridge into old town at night is a spectacular sight as the town twinkles from the evening lights coming on.
The evening is really incredible to just walk around getting acquainted with Prague, listen to street music playing and take the all important "I am a real tourist" photos.
After several hours, we stop at a small market to pick up some lemons and water before heading back to the hotel.  Now we for sure know where we are no map necessary because we know the way….hahahah NO we get lost and spend another hour walking around probably a 3 square block area trying to decide where the hotel actually is.  We walked in a beautiful moon lit park, along the river with a cool breeze blowing and found some really nice restaurants; which could be dinner options later in the trip.  See getting lost is not always the worst possible outcome….until we start having discussions with each other about which way we should actually go.  You know two type A personalities with strong opinions who are lost in a new city could make for comical entertainment to any passerby.