Alpine Mountains Fairyland:
I remember as a young adult (because in reality I was never a child…just ask my parents) I dreamed of a place where I could look out my window and see a beautiful crystal clear blue lake surrounded by magnificent majestic mountains.  Probably more of something I remembered from watching fairytales…OK Mr. Disney that whole prince charming and happily ever after thing was a lie you tricked me….however, the other part of the fairytale actually exists in Slovenia.  The castle is just a bonus for my grown up fairytale.  
I discovered the only option by train to get from Budapest to Ljubljana, Slovenia was to take one train from Budapest to Vienna then a second train from Vienna to Maribor, Slovenia and a third train from Maribor to Ljubljana a journey, which would have taken approx. 8.5 hours 12.5 hours with layover.  The only only good thing I can imagine about that journey was the 4-hour layover in Vienna that would give ample time for the pilgrimage to my Austrian Mecca:  Café Central (aka Vienna Pastry Heaven).  I dream nightly of indulging in one (ok a few) of their amazing beautiful exquisite "art on a plate" celestial goodies.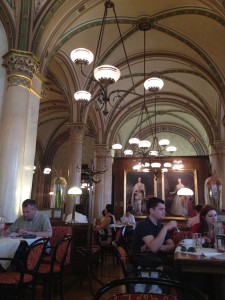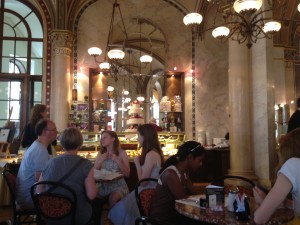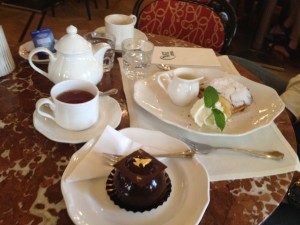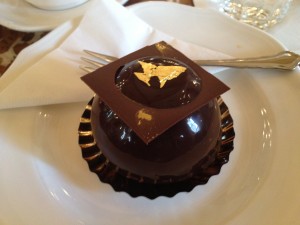 Unfortunately, that wasn't even enough to sway me to take that extended journey.  Hiring a car for the 3.5hour drive was a better decision in my mind at this point in time of my trip albeit a bit more expensive option.
Good news bad news:  Good news is heavy rains and thunderstorms broke the crazy insane European heat wave at the very moment we arrived to the hotel (not even the bad news).  I didn't even care about the downpour because the rain felt so wonderfully refreshing compared to the " teetering on the hinges of hell" temperatures from the past week.  Bad news: arrived in heavy rain to the Grand Hotel Union Executive and no bellmen or curbside help in sight.  Yes, I have grown accustomed to excellent service over the past 10 days in this part of Europe so at this moment in this downpour I am experiencing a bit of no service unhappiness.  Check in was easy and quick so we are now off to our room.  I made reservations at this hotel 2 months earlier and specifically requested a non-smoking king room.  However, when we entered the room it was a smoking room with two "queen" beds that were smaller than US full size beds.  1st I am super allergic to any type of smoke like lungs get congested, fill with fluid and can't breath allergic…2nd have I mentioned my travel partner in crime is incredibly tall Dutch man that is over 2 meters (6'8") tall and there is absolutely no way he can fit in that "Smurf" bed.  Back downstairs I go:  2nd room still smoking with 2 dorm size twin beds apparently complaining makes the beds shrink in size at this rate the next complaint will result in Barbie Dream Beds.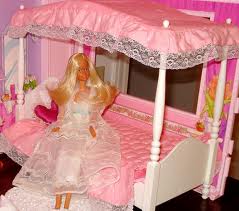 Again back downstairs I go:  well the only other option we have is to upgrade to a suite for an added cost…wait what you are telling me is that you give me a smoking room and send me to a second smoking room after me specifically telling you two months ago I require a non-smoking room and I need to pay extra.   Finally, a compromise was reached and off we go to the third room.  The supersized suite was large very large with a mostly King size bed in the separate bedroom, a separate wet bar, walk in closet, living room, and large bathroom with L'Occitane bath products (very nice amenity).  The room could use a bit of updating, 80's tastic dusty rose and teal are the decorating colors of choice, but the room was comfortable and a great size for our extended stay.  The rate included breakfast, WiFi and access to the rooftop pool, spa and health center.  The breakfast was OK a lot of choices but mediocre food and the coffee wasn't up to European standards.   I think the big issue for me was how crowded the breakfast area was so to remedy that we just requested they deliver it to the room.  Also, there were no in room coffee or tea which would have been nice.   I have been spoiled over the past 10 days in Prague, Bratislava and Budapest and readjusting to normal hotel service is proving difficult.  The best thing about this hotel is the location and that is spectacular walking distance to everything in the city and 1 block from the old historic charming part of town.  Apparently, I was so underwhelmed by the hotel that I have no photos of it or the room.
Now that we have suitable accommodations, though looking back I wish we would have just moved to a different hotel, we were off to visit a couple of incredibly tall Dutch man's friends who lived near Lake Bled in the Alpine Mountain region of Slovenia in the village of Begunje na Gorenjskem.  We ventured out to the town they lived in by train, which was a pretty OK experience after the bicycle family finally decided to board.
On this train was no other than "Rainman" himself when he learned I was from the USA we proceeded to have a discussion about American Football (college and NFL) and Basketball (NBA, NCAA men's and women's).  He knew by year what teams won NCAA championships as well as the other teams in the tournament and where they finished, who played on each team, where they were now (WNBA, NBA), where they were from, the scores of the games and anything about any bowl game or Super Bowl ever.  Even more impressive he was from Slovenia probably in his early twenties and he could school me at ESPN Jeopardy easily.  Simply amazing the way he just recited all that information.
You aren't going to believe this but incredibly tall Dutch man's friend was another incredibly tall Dutch man.  These two guys must be the two tallest engineers I have ever seen and they work on cruise ships, voluntarily by their own free will.…I know insane right there are TWO actual incredibly tall Dutch pirates….awesome.
My "new friends" home is beyond words amazing, idyllic in fact, sitting on a mountain in a small village that is charming and quaint and perfect.  Yes please just let me know whom I need to make the check out to for purchasing a piece of this serene heaven.
After dinner they took us on a tour of the small town they lived in, through Bled, up to the castle for the view of the town and lake at night and the evening finished with sitting on an outside terrace overlooking the lake enjoying my first slice of Bled crème cake.   Nothing better than a wonderful evening visiting with new friends while on a sugar high induced by pastry, custard, and kilos of powdered sugar…on this night for an added super special mega sized bonus fireworks especially because I have arrived in Slovenia (yes that is my reasoning into the fireworks may or may not be reality).  Thank you both so much for the fantastic day.
The next day we also took a tour with Roundabout Travel to visit this Alpine Fairytale Land:  we visited Vintgar Gorge, Lake Bled and Lake Bohinj.  I think the pictures due more justice to just how beautiful this area of the world is than words I could come up with to describe it.   Some days the beauty of the world leaves me speechless (yes I understand how rare this is) and Slovenia managed to do just that.
Lunch during the tour was in a small village Bohinjska Cesnjica ("little cherry") in the Alps Mountains at Gostilna pri Hrvatu on a terrace above the mountain river.  When traveling through Slovenia look for the word Gostilna:  these are small family run restaurants serving traditional foods using fresh local ingredients.  Don't be skeptical by how small they look drive up, park, go in and prepare for wonderful food you will not regret it for one moment.
So we sat down and ask them to bring us their specialty beer and cuisine.  Note to self or to you: remember try new things you maybe pleasantly surprised by something you would never choose yourself.    Loved it… great food and none of that brain straining translation or complicated decision-making necessary.  The family was super wonder, extremely helpful telling us about their village:  history, customs and things to see and do in the area.  Specialities here included:  Karst dried ham, mushrooms in heavenly thick rich creamy sauce served with rice or over pasta, wild boar and dumplings….each dish fantastic and unique.
Like all great Alpine fairytales there must be an end…and my day ended the best way possible for me with a sugar high induced by homemade blueberry cheesecake, Yes that is marshmallow creme covered in chocolate (seeing that in the pastry case almost made squeal like a 9 year old girl a bit too excited I suppose) and necessary caffeine in the form of an exquisite cappuccino. I am beginning to like coffee drinks almost as much as pastries…..OK that maybe a bit of an overstatement.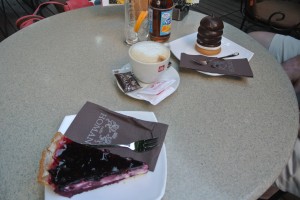 My fairytale adventure complete…now where is Prince Charming and that freaking white horse (I suppose a white boat is close enough)!!!!