We stayed in Budapest for 5 days and breaking this down day-by-day may prove boring.  Here the heat was even more extreme and brutal so doing things during the day was more of a challenge.  Most afternoons were spent under a mister fan enjoying beer or in the air-conditioned hotel room taking naps.  Early mornings and later in the evening was a much better time to see the city.  So, I am not certain we got to enjoy the city to its fullest.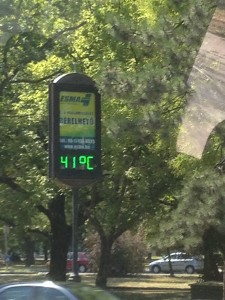 I found Budapest to be a challenge for me in terms of relative size and I think the city was in actuality a bit different than I had pictured in my head.  The people while not rude at all were different than the previous cities we had visited; still friendly just a bit more abrupt and not quite as warm.  The Bohemian charm that I pictured the city to be didn't quite exist in what my expectation was….for me that Bohemian charming city was much more Prague.  Again this is only my expectations and I have grown accustom to the way I think is much different than the way a lot of other people think.
First things first…exchanging money at the train station:  The train station is getting a major renovation; therefore, at the moment it is very hard to get around and find things of interest or which you actually need.  There was one ATM which I could locate and the line was I kid you not at least 50 people long.  Oh I so think I am not standing in that line while everyone figures out how exactly an ATM works…come on people just because it is in Budapest doesn't mean it is anymore complicated than anywhere else.  So, I exchanged money at an exchange house not the best rate but less time consuming than that crazy ATM line.  The official exchange rate during our trip was approximately 1USD=228.5 Hungarian Forint.  Secondly, taxis such a problem most everywhere in Europe:  Negotiate the price, yes there is air-conditioning only to get into a less than stellar car with no air.  OK OK it's only a few blocks to the hotel.  While the driver complains about how heavy my bag is.  Really dude I can lift the bag with no problems so this shouldn't be the main issue here.  The main issue should be crazy hot and you have no air conditioner in your car.  Though on the way to the hotel I had a crash course learning common Hungarian phrases.  Hungarian is not similar to any language I have ever dealt with wow it is crazy complicated and I cannot even look at a word and make it make sense in my head and my traveling partner in crime the same together we are seriously in language trouble.  Nice thing most everyone speaks a little English in Budapest.
Hotel Palazzo Zichy.  The hotel is an old palace which has been renovated into an 80 room hotel and is located on the Pest side in the historical Palace quarter.  Across the street is a small park with sitting area.  Upon entering the hotel it is lovely, once again the staff is incredibly helpful, friendly and nothing is too much to ask.  I am so incredibly impressed with the quality of the hotels we have had the pleasure of staying in for the past 2 weeks.  They all received wonderful reviews on trip advisor and booking.com but even the rave reviews couldn't do justice to how friendly, hospitable and welcoming the staff was.  We booked the city break package which includes the following services: spacious room with buffet breakfast, 1x special three course-dinner for two guests in a cosy restaurant, called Múzeum Café, 1x three hours long multi lingual city tour by bus for two guests and complimentary usage of sauna and fitness room, free WIFI internet, usage and Lounge Bar service (free coffee, tea and mineral water).  Upon arrival we decided to upgrade to a larger room, the only larger suite available was on the ground floor facing the park and we were concerned about the noise at night.  There was no need for concern at all once the curtains were closed we never even noticed any noise.
The room while not as spacious as the previous rooms we had stayed in was big enough and really modern and beautiful.  There was a desk, a separate small seating area, and the bed separated from the rest by a large modular wall which also served as the closet.  The bathroom was really nice with the most amazing tile floor that looked like wood and these really beautiful damask printed wall tiles that I seriously need for my apartment.  The only weird thing was the door to the bathroom:  no lock and made of glass; printed glass; but glass still the same.  For me a bit lacking in privacy and well yes weird is the only word that comes to mind.
The included hotel breakfast was fantastic nice variety of choices, fresh fruits and juices, several types of breads, and made to order coffees.  As an added bonus to the room when we returned the first night after dinner there was cake, wine and fruit placed in the room…the cake was amazing chocolate yumminess, with heavenly cream and topped/filled with fruit.  I suppose the hotel knew about my search for pastry heaven and was just helping me find it in Budapest without needing to brave the heat.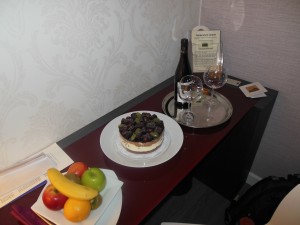 Food:  The food here was different than in Prague and Bratislava it seems to be more commercialized in general not that we didn't find amazing food we did but we also found some that was less than stellar.
New York Café lets be honest then only reason anyone goes here is because it was voted the most beautiful café in the world and it is for sure that beautiful.  We opted to have beer and two of their dessert samplers because in reality I am all about the sweets right now.  The beer was good and the pastry samplers were excellent just a bit on the crazy expensive side for me all together the bill was about 75USD.
Hummus Bar….yes it is hummus heaven and according to their logo hummus is sexy. Not sure about sexy but for sure delicious.   I had the hummus and falafel plate with spicy tahini and the best fresh squeezed mint lemonade in the world. They will even deliver to your hotel room. Good and convenient   can't go wrong there.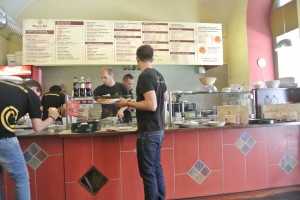 Hard Rock Café.  Great Beer, Great Burgers and mister cooling fans on the patio during the afternoons.  I am almost embarrassed to make this next statement but:  Significant amounts of time were spent here in the heat of the afternoons enjoying the cool fans, shade and great varieties of beer. I don't know if in general I am such a fan of Hard Rock cafe but this particular one is worth a visit.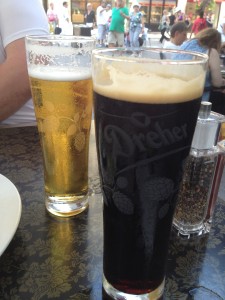 Muzeum Café.  This was the dinner included in our hotel package.  It wasn't awful but it wasn't good.  I would definitely skip this place and its instant frozen food and choose another restaurant.  Also, here the wait staff wasn't exactly friendly or accommodating.  It was just overall not a great experience.
Don Leone.  Near our hotel and recommended by the staff.  The food was exceptional, the beer again wonderful and desserts my favorite meal.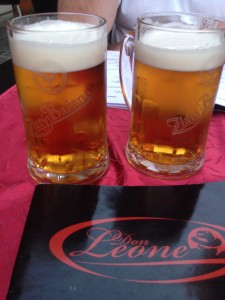 Ok OK….I know not so many pictures of food and way more photos of beer.  I guess we all know now what my priority was. That and the food just didn't tip the wow scale for me here so I was less interested in it than the wonderful different brew choices.
Pastry Heaven existed at the Great Market Hall Budapest.  Cases upon cases of delicious fresh made sugary-pastry heaven in my mouth.  If only I lived here the Great Market Hall would be a wonderful place to pick up fresh fruits, vegetables, meats of any kind, spices, bread and of course the necessary daily sugar fix maybe even twice daily sugar high. The day we visited they were having an exhibit that featured items and delicacies from Egypt. The market is a bit touristy with the usual souvenir crap just pass all that by and head upstairs where there are a couple restaurants and several food stands.  Let your nose lead the way to some mesmerizing smell of something freshly grilled or baked, purchase it, grab yourself a tall cold pilsner beer, pull up a stool and enjoy while watching the crazy tourist pass by.  Ironic I know since I hardly look like a local sitting there.
We did a bit of walking and saw most of the tourist places:  Heroes' Square (City Park, Vajdahunyad Castle, Zoo), the Castle District (Matthias Church, Fishermen's Bastion), Gellért hill (Citadel, Liberty Statue), Andrassy Avenue, Parliament, State Opera House, St. Steven's Basilica, Main Market Hall, Synagogue, National Museum.
Of course, someone did a bit of shopping along Vaci street (I think taxi guy really shouldn't pick up my bag now if he thought before it was heavy) and we also got fish pedicures/massages.  This was a random strange experience something swimming around biting me on my feet while drinking calming herbal tea..I suppose the tea was meant to calm the creepiness from something swimming around nibbling on my feet (Where I am from that usually means it is time to get out of the water quickly).  These "doctor fish" actually remove all rough, dry, flaky, callous skin and while it didn't hurt at all it was still a bit creepy.  However, my feet may have been softer and felt more refreshed after this than after any traditional pedicure or foot massage before.  Believe me after the past couple of weeks with all the walking I needed something to refresh my feet.  I would recommend trying it but it will be creepy at first; the second time much easier and less creepy.  Yes we went twice…
Our last night in Budapest we went with a group to the Buda side to visit a more traditional restaurant. I liked the group concept of dining though one of our dining partners was a bit too obsessed with the Kennedy family.  OK here is this girl from Sweden so so enchanted with this US political family and for the life of me I just didn't quite get it.  She says to me I am going to Dallas in November and do you know why? It is a huge event that is going to happen in Dallas in November do you know what it is?  Me being me looked at her and said a Dallas Cowboys football game…come on US friends you know it doesn't get bigger than that in Dallas in November and she just stares at me and says no it is the 50th anniversary of JFK's assassination.  How could I not know this?  How could I not be able to name the US foreign ambassadors?  Haha well to say the least it made for a very informative evening for me.
This was the food I had been looking for all along traditional food served family style.  There was even a traditional folklore show featuring dancers, dressed in folk costumes and Gipsy Music during the meal. Check it out dancing with wine balanced on your head…sometimes I just have problems walking while holding a glass of wine.
After dinner we choose to visit castle hill and view the city by night, it was really beautiful at this time of the day….perhaps my favorite time of the day and the temperature was much more pleasant as well.   Definitely a wonderful way to end our stay in Budapest.