Train station to hotel:  Yep forgot to ask the price before jumping into a taxi and giving him the hotel address..huge, huge mistake. Oh yeah you should probably also make sure the car has air conditioning and unfortunately for me this one did not.  Have I mentioned the heat wave rolling through Europe is brutal for me.
Tulip House Hotel.  I booked on of the hotel special packages which included:  2 nights in an executive suite, welcome drinks, in room bottle of champagne, homemade macaroons, free entrance to private spa, free entrance to UFO restaurant, breakfast served in suite each morning, free wifi, free parking, late check out.  The hotel here was beautiful and the hospitality and friendliness of the staff was first class all the way.  The rooms are freaking huge with a living area, separate bedroom, well appointed bathroom, small kitchen with small kitchen table and ample storage.
There was an issue with our front door not locking so they upgraded us to an even larger room with a balcony for the second night.  If I was looking for a place for an extended stay this would be the perfect place…it is far superior to some apartments I have seen.  Again I cannot say enough good things about how friendly and accommodating everyone on staff was.
Dinner:  Wonderful Slovakian food very similar to Czech cuisine which is now the standard all other food is measured against.  The food is tasty and all well prepared..apparently Argentine beef is a big deal here.  The beer so so good….the trend continues for this region of Europe.
Starters were two types of soup.  Garlic Soup in homemade bread bowl…surprisingly good though probably should only consume it when you are with a friend or someone you are very comfortable with.  Cabbage soup in bread bowl.  When I think of cabbage I think of that stuff my mom used to boil in the house that smelled worse than 5 day old gym socks in the summer and then she expected we ate.  Wow I was very delusional thinking I should never attempt to eat it this dish was amazing.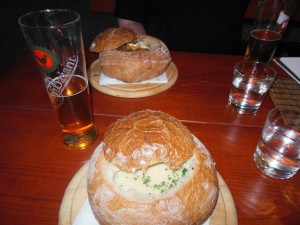 Main dishes consisted of traditional Goulash with potato dumplings and steak tartare.  As, I learned on my Taste of Prague tour the correct way to eat this is to spread the steak tartare in a thick layer on  toasted homemade bread rubbed with strong garlic.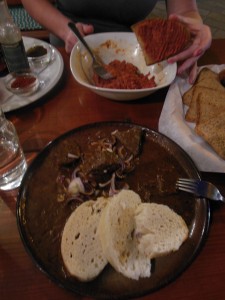 OK seriously by this time on this night I had consumed enough garlic to keep Dracula at bay even 1000 miles away.  I am full and ready to turn in safely for the evening.
Morning began with the traditional European breakfast being delivered to our hotel suite and we are off the explore this city.  Because of the insane heat it was much too hot to trek around town seeing all the sights so we opted for a tour of old town and the castle…by cute little locomotive looking vehicle.
Heat exhaustion has set in and is taking its toll….we opt to spend a bit of time in the shade having iced tea and milkshakes.  Back to the hotel for the spa part of the weekend.  Hot tub and sauna even after all the heat was super relaxing.  A short power nap and it is time for dinner which the hotel pre-arranged.
Left the hotel for our dinner reservation at the UFO restaurant with precise directions from the desk attendant.  Simple enough two right turns, hold on to your hat here because I know you aren't going to believe this but we got lost.  Instead of crossing the river on the intended bridge we crossed the river on creepy wooden train bridge that probably hasn't been used since the existence of the Austrian Hungarian Empire.  Like most other detours in my life this one turned wonderfully.  From this vantage point in the city the views were spectacular and there was a nice storm coming in breeze blowing which was a welcome change from the day where the temperature was shoes melting to the pavement hot.
Arrived to the restaurant even after being a bit sidetracked there was still a bit of a wait.  The waiting bar area was crowed (and I really don't like people in my personal space) so we went up to the observation deck for the 360 degree view of the city.  Breathtaking
Table is ready….the service was first class excellent and the food here was 5 star good; as well as, all dishes were beautifully plated.  The real draw for this restaurant is the spectacular view of the castle and old town area 400 feet up.  I was only mildly disappointed to eat here (yes compromise was happening and yes I understand the principle of compromise NOW) because I am enjoying the traditional Slovakian food so much and I can have 5 star restaurant food anywhere, I am now glad I went for the experience and the view. I don't want to say someone was right but perhaps someone was correct in the choice.
First course lobster parmesan, main course pork cheeks with au gratin potatoes wow how I love pork cheek especially when they are prepared well it is a divine meal.  Dessert apricot cheesecake with walnut crust…yep dessert envy was happening at the table.
Left with a muffin for breakfast no taxi in sight but only a short walk to the hotel in the rain…..you know from the movies all good things happen in the rain!!!
Bratislava wonderful…..great place for a weekend or the stopping point between Prague and our next destination Budapest.