Day 3 in Prague:  Awoke in time for hotel-included breakfast that is a huge  improvement from yesterday and right now I am so sad I had missed it the day before (though not sad yesterday breakfast included left over birthday cake).  I must say this was better than even the standard European breakfast I have experienced in the past.  Lets talk about yogurt:  I have no desire to eat yogurt, hate the taste hate smell of it, hate everything about the way the container looks.  However, I was told no matter my preconceived ideas to just try the home-made yogurt at the Alchymist Royal Palace it was different.  OK I am in to attempting to try new things, look at how great that worked out for me yesterday, wow this stuff first looks different (very white, thick and creamy) and it taste incredibly different actually amazing…..How did they do that?  Well now I know and as soon as my Dad arrives with the starter cultures I can enjoy it anytime I want here at home.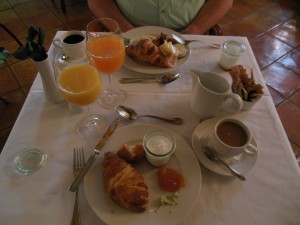 We took Jan and Zuzi's (Taste of Prague) advice and headed out of the "touristy" areas of Prague making our way to the "Vinohrady" (vineyard) district.
"Walked around"…ok ok probably some aimless wandering and distracted by what is over there was more to the point….practiced my Czech which is getting about as good as my German at this point.  The area is very quiet, more residential and then there is this glorious vineyard in the middle of the city still very peaceful with beautiful views.  There is an events center on site, which would be the perfect place for an incredibly lavish party.  Now if only I could think of a reason and entice my family and friends to join me.
It is hot really hot this European heat wave is brutal and I think a beer is just what I need to remedy the hot thirsty feeling.  Luckily there is a place not far from where we are recommended again by Jan and Zusi…see again how wonderful they are and their suggestions just what I needed today.  Nota Bene they have 6 local beers on tap daily and during lunch serve traditional Czech food.  Not a huge menu but definitely worth going for that and so reasonably priced you with think someone made a mistake on the bill.  About USD 22.50 for 2 beers, soup, entree and 2 desserts.
Later that night after it began to cool down went for dinner at Café de Paris another recommended of Jan and Zuzi.  There specialty is steak with sauce and french fries "oh yeah I am all about that" paired with ginger beer and dessert a very nice dinner indeed.  Yes someone is eating healthy in this picture and just for the record it is not me…..not that anyone would expect it to be.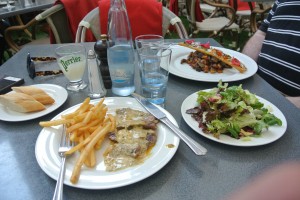 Off to take the funicular to the top of castle hill.  Amazing views of the city at night, the lit buildings against the backdrop of the dark sky, and hey what is that…..annoying loud guy on a microphone his voice amplified interrupting my incredibly enchanting evening it just sounds like a Bingo game for young drunk people at a frat party…shhhhhh.
I am mesmerized with Prague totally captivated by the charm of the city and warmth of everyone I met in the city.  The food is beyond words amazing (slow cooked meats in rich creamy sauce, potatoes served 100 ways, homemade breads, pastry heaven exist everywhere you look and beer is cheaper than water). As soon as I can manage the time, I would love to be able to rent an apartment and stay for 4-6 weeks just soaking in the bohemian culture, exploring more of the city and of course sampling more beer.